[This page is currently under construction. Apologies for the bad formatting.]
Managing Made Fun!
These coaching cards help team leaders and managers around the world to create enthusiastic, engaged, and high-performing teams… the fun way!
Who are these cards for?
An employee's relationship with their boss influences their performance, motivation, engagement, loyalty and job satisfaction. People Management Selfcoaching Cards have been designed to inspire you to become the best manager your team has ever had! They help you observe and adjust your own behavior and actively improve your managing skills. Additionally, they can be used,
By management coaches in their 1:1 sessions ​with clients

By training companies as an add-on resource or as a reward after completed courses

By Human Resources as a gift for newly promoted managing staff

By management teams for brainstorming best practices

By senior managers who mentor junior managers
A Great Gift For Newly Promoted Managing Staff
People Management Selfcoaching Cards come wrapped in cellophane inside a plastic box. They make a nice surprise from HR to newly promoted staff.
52 Cards
This set consists of 52 cards – one for each week of the year.
4 Categories
Each suit covers a different management category
3 Languages
The cards are available in English, German and Dutch
Coach or Play
When you're not coaching – just play a nice game of cards!
What others say
​Anja Schuetz designed a great game, that contains questions on each card that every team leader should ask themselves on a regular basis. Each player's awareness gets raised on how they are fulfilling their leadership role within their team. [Dutch Leadership Magazine, Netherlands]
What These Coaching Cards Are NOT
People Management Selfcoaching Cards are not training material and do not provide answers. Instead, they encourage you to self-reflect and see yourself through your team's eyes. They are designed to help you access your inner wisdom on how each individual and the teamas a whole may need to be led and managed in a different and better way.
My goal has always been to enable people to be kinder to each other. Whether that is service providers to their customers, or managers to their teams (and v.v.).
These cards were the first tool I created in 2008 when I was still employed. I wanted a tool to spark conversation and education in the meetings I was conducting with junior operations managers.
A few months later they marked the beginning of my business. 
Anja Schuetz
Tips for use
Pick a card every Monday and make the question your theme of the week. Observe yourself in daily situations and spot your areas of improvement. Use the Aces to give yourself a break!
​What others say
​I wish my direct manager would use these cards! Especially the Three of Clubs!G.S., Quality Manager, Germany
​What others say
I use the cards in our weekly management meetings. Everyone picks a card and answers their question. This way all participants can learn from each other. Since we use the cards, the meetings have become much more fun and people actually look forward to this part, as we used to discuss mainly technical things and procedures and have now added a new dimension by concentrating on soft skills as well.A.M., Netherlands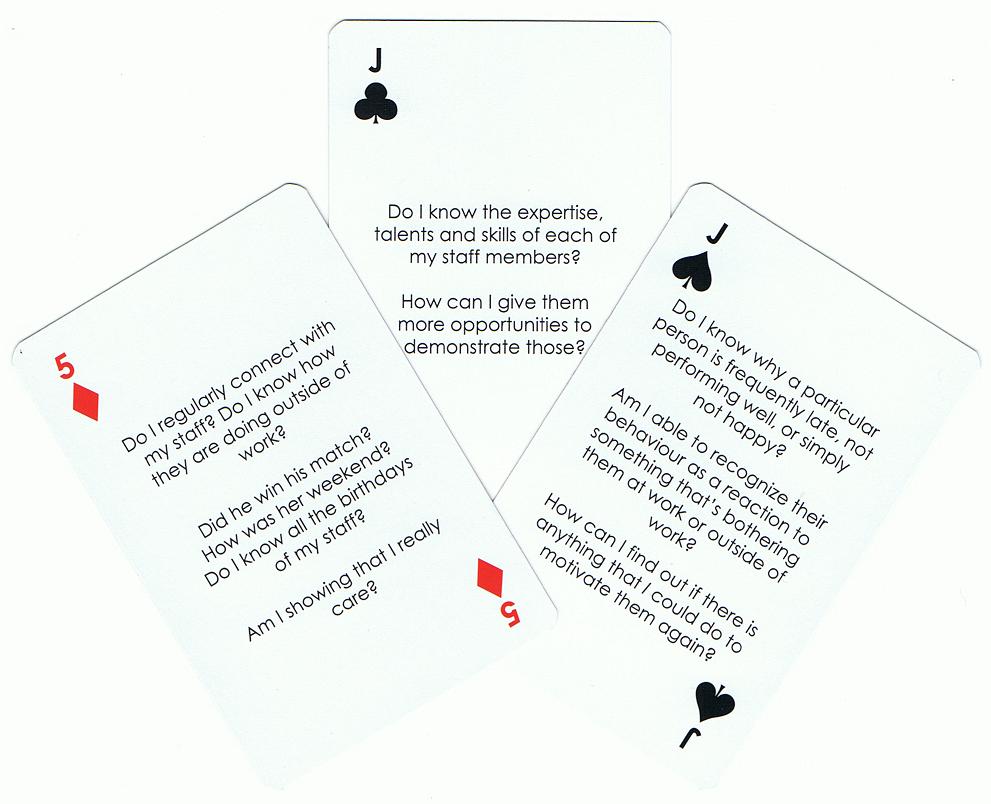 How to order
Price per set: €19.95 plus VAT. Shipping costs depend on the number of sets/weight of the shipment. Please contact me for a quote, with your preferred payment method.
Be your own management coach!
Coach yourself and use these cards as a tool for personal development in your role as team leader:
Observe
Self-reflect
Adjust
Re-evaluate
Tips for use in groups
Let each participant pick a card and answer the questions. Use them as prompts for discussions or inspiration to brainstorm, to find out best practices.
​What others say
My company unfortunately doesn't offer management courses or leadership coaching. When I got promoted, I just had to cope – with the new position, the new tasks and the responsibility for a team on top of that. I received a set of People Management Self Coaching Cards recently and they really help me identifying areas where I just don't have enough experience yet and need to get more education on. Also they kind of show me a mirror and remind me not to forget about the team – because I really don't want to turn into my previous boss! [T.B., Supervisor, Canada]