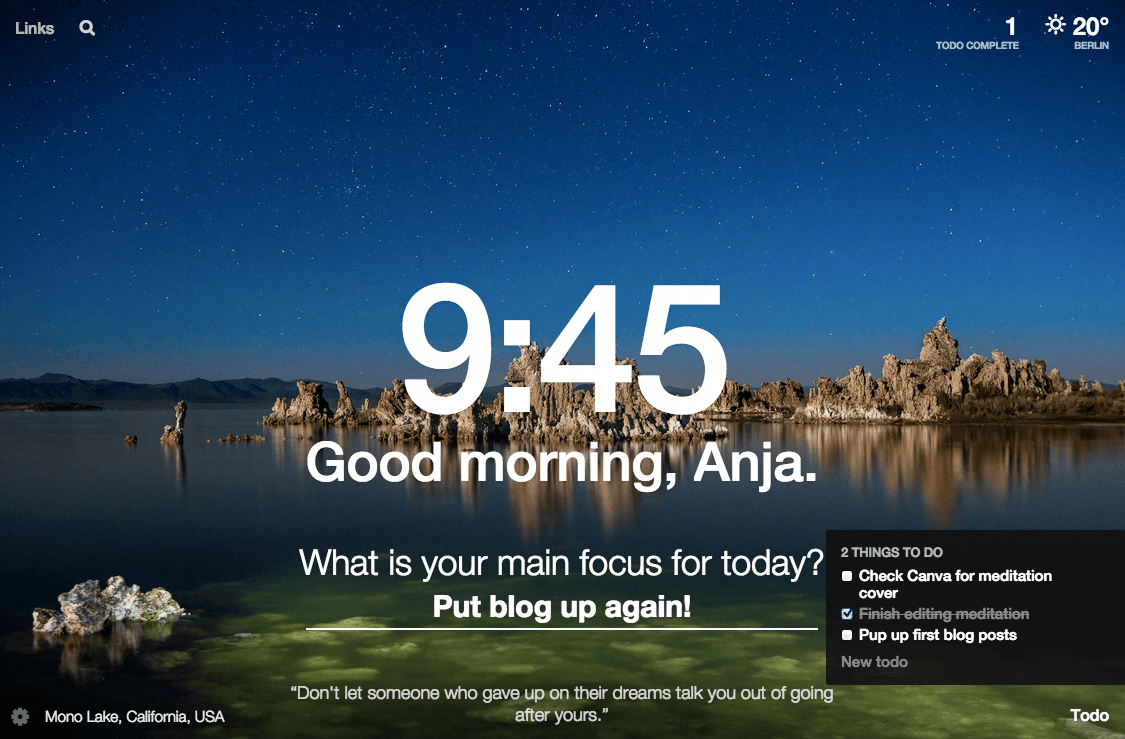 Momentumdash.com for Google Chrome
Could a to-do list be any more beautiful?
This is an extension you can add to your Google Chrome browser. Which means any new tab will open with a beautiful image and your focus for today.
Unfortunately it doesn't work with other browsers (yet?), however if you set Momentum Dash as your homepage in your browser (Firefox, Safari, or whatever you use), you still get to see a beautiful image every time you open a new tab. It will look like this: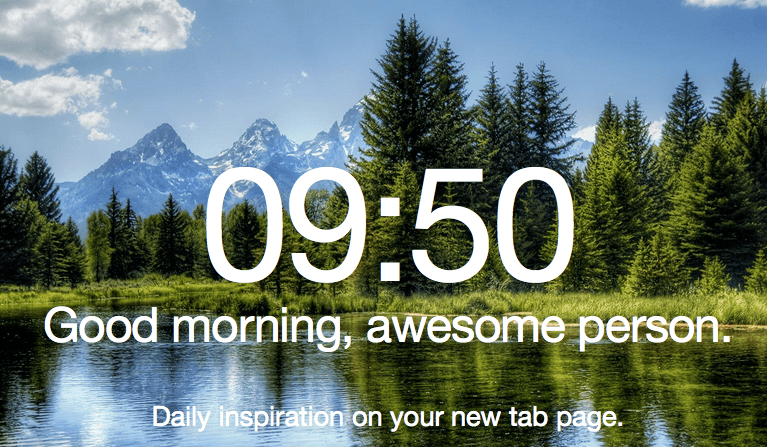 Evernote
I've been working with Evernote for a while, but I had never spotted those little check boxes that you can insert into notes, until recently!
My German left brain screamed Hallelujah when I found them!! Look how pretty it looks! (Sorry, maybe only Germans can get excited by lists and check boxes…)
I looove ticking things off. Of course – as with any to-do list you need to break down your items into manageable steps. For example, I committed to have my "Receiving meditation done" for my Mastermind meeting, but "done" actually includes lots of other steps, like recording, editing, designing, etc. So always break your action items down into "tickable items" :)
Google Calendar
This is another option I have been using, though I'm trying to train myself to use Evernote instead.
I use Google Calendar for my appointments and recurring tasks of course, for example for paying out my client's affiliates on the same day every month.
However I also use it to remind myself to check out certain things, or to just quickly note down some ideas that I want to remember. Ideas, that I do not need to execute right away, but which I don't want to forget.
My Google Calendar is synced with my iPhone, so it's easy to quickly type into my phone on the go. The nice thing is (I consider this a nice thing anyway), that I get an email notification into my Gmail account for every reminder.
When it pops up on my phone or on my screen, I will just click it away (because it's not urgent. Nothing needs to be done *now*.) But it will stay in my inbox forever, so I'll never forget it, even if I deleted the reminder in the calendar.

Now I would NOT recommend this if you're an "inbox zero" fan with thousands of ideas. Because all those reminders will just fill up your inbox, which you're trying to get down to zero… (Which is why I'm trying to use Evernote more and more). I'm a BIG inbox zero fan in my business mailbox, but in my private one I'm a little less strict :)
On the other hand, you could of course create a separate folder or label for these notifications in your mailbox, and move all of them in there, and out of your inbox. Problem solved!
What are your favorite to-do list tools? We all resonate with different things, so it'd be great to find out which ones you love!
Would you like to receive more tools straight to your inbox? If you sign up to my Museletter below, I'll send you my Tool Guide with my favorite business tools that I use in my clients' businesses as well as my own.