You know what I love? When a package from Amazon arrives and I had all forgotten that I'd ordered something!
"Oh, surprise to self!" Is what I choose to think then (instead of "Alzheimers!!") and wonder what I'll find inside…
This time, though, the surprise was even bigger, because when I opened it, Steve Chandler's latest book "Wealth Warrior" appeared – straight from his publisher Maurice Bassett!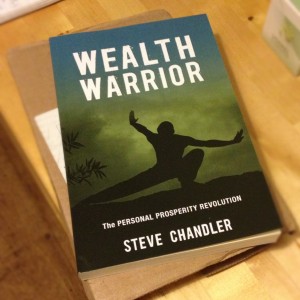 Wow. That's service. I thought.
I used to be a member of Steve's Club Fearless, but I had lost touch a bit since then.
Now Steve, his business and his services are back on my mind! In a very positive way.
He didn't try to sell me anything.
He didn't tell me to order his book.
He simply sent it to me.
As a client/subscriber/Liker/follower of his, I feel appreciated now. I feel like he's saying, "Thanks for being in my tribe. Here's a gift for you. No conditions."
I don't know how many people he sent the book to. I don't know how big his investment was.
But think about it from a business point of view: Every single recipient just remembered "Steve Chandler" again. Maybe some of them have been out of touch for a while. You know how it is. We're subscribed to hundreds of newsletters, we follow thousands of facebook pages or twitter accounts – at some point we can't take it all in anymore. Then this physical, touchable, "actual thing" arrives – and it sticks out of this fog of virtual messages.
"Steve Chandler… what's he been up to, lately? Wealth Warrior, hm… I could really use a little more wealth!" And so people are inspired to check out Steve's website and the'll see he actually has a whole "Wealth Warrior Movement" going on! Costs a little money. But of course he also has lots of other coaching services… Costs a little more money.
Do you believe there's a Return On Investment on unconditional surprise gifts? I have no doubt!
This is how you keep your clients and followers interested in you: by giving unconditionally.
This is how you get them to keep you in positive regard AND to talk positively about you to others. Remember people only share either bad stuff or WOW-stuff. Nobody calls their friends to tell them, "Imagine! I got exactly what I expected!!"
News are only worth sharing when we get what we did NOT expect – whether it is better or worse. TWEET THIS
So always be better! Especially when it comes to service!
Service is the new marketing.
How can you reconnect with your followers today? How can you surprise them and reignite their interest in you?