Do you also get tons of linkedin invitations from people you don't know, which say:
John Doe has indicated that he is a friend:
——————–
I'd like to add you to my professional network.
– John Doe
And of course John Doe is not a friend. In fact you've never heard of him.
Some people see linkedin.com purely as "business". They want to increase their network no matter what. They care about quantity above all else. That's perfectly OK if it fits their business model.
And some people care more about quality. That doesn't mean that the people in a quality network are better. No. The quality is in how well the members of this network know each other and can contribute to each other's success – whether that is bringing in new clients, finding a job, or getting A's to your Q's.
The more people KNOW, LIKE and TRUST you, the more they will readily support you so that you and your business can benefit.
With a large online platform like linkedin it's easy to dismiss the TRUST part and of course it is harder to gain trust from each individual the larger the network grows, because you simply do not have the time to interact with each person consistently.
But you can easily do something about the KNOW and LIKE part – especially when you send your initial invitation.
60% of people will NOT accept your invite unless you give them a reason
That's the outcome of my (totally none-representative) survey on facebook.
You probably have a good reason for the invite, otherwise – why would you invite them to connect in the first place? So why not tell them?
Why not up your chances by 60% right from the start?
People are not interested in the WHAT (the fact that you want to connect) – they are interested in the WHY and the WHO. Tell people why you want to connect! Tell them who you are! I know you have limited space, but it doesn't take a lot of characters to give someone a reason or even a compliment!
Here are some invitations I gladly accepted:
Dear Anja,
followed your activities at the Customer Experience Management group with interest – valuable inputs.
Therefore, I would like to invite you….
Or
Hi Anja,
I am fellow member of Women Unlimited Group. I would be delighted to add you to my network.
Business is personal
Make it easy for people to WANT to connect with you.
Even if you think "Linkedin is business. It's not personal." Guess what – business IS personal, especially for small businesses, who work 1:1 with their clients. Coaches, consultants, healers, advisors and service providers of any kind: we are our own product! When people buy our services, they buy an experience with us – the human being that is "us"! When people connect with us online or offline, they connect with the person that is "us". Business is personal. In fact people take things way more personally than ever before.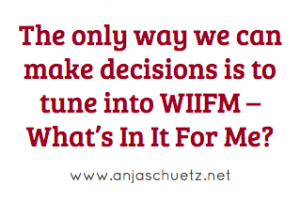 Everyone is listening to only one channel: WIIFM
In this super-connected world we live in, there's an overload of information, offers and choices for us out there. The only way we can make decisions is to tune into WIIFM – What's In It For Me?
This is not meant to sound selfish. "What's in it for me" could be that I get to be of service to someone. But when it comes to making quick decisions like hitting that Accept button on linkedin, many of us ask ourselves, "Why should I?"
If we consider this fact in our interactions with people – whether they are potential clients, business partners, employees or network contacts – why not hand them the "WIIFM" on a silver plate?
When it comes to linkedin invites, consider these options to increase your "conversion":
Let people know how you heard about them (i.e. "read your blog post/heard your speech on…; saw you've also worked for…")
Compliment them (i.e. "loved your comment on group x"; "Bob recommended you as the expert on…"; "Your book [x] changed my life!")
Give people a reason or a compliment. Let them know why you want to connect. Show them that you are a real person who has a genuine interest in connecting with them.
Behind every email address is a human being.
When we remember that – especially when it comes to building our network – we can create connections twice as fast and make our relationships twice as strong! It's a simple way of "woo-ing" (WOO = Winning Others Over).
Try this with the next invites you send out! Add an extra sentence into your standard invites and a friendly "Have a nice day!" at the end and see the results immediately!