Have you noticed? The first quarter of 2012 is over.
According to astrologists, 2012 is supposed to be the most creative year of our generation. I know that especially some of the women reading this blog have experienced this and are moving mountains – or have moved them already in the past three months.
As enthusiastic coaches, we would normally rub our hands and ask our clients, "So, what do you intend to do with the remaining three quarters? What are you going to use all this creative energy for?"
But today, I propose to STOP!
Let's take a moment for reflection. A moment to catch our breath before we start running again. A moment to remind ourselves of all the wonderful things we've made happen since January.
Most of us are so busy being there for other people (in our jobs, our lives, our businesses), that we forget to take care of ourselves in the process. We may or may not get recognition from our bosses, partners, peers or clients for what we do. But what's most important is that we recognize ourselves for what we do.
What personal successes have you had in the past three months? Which special things happened – or did you make happen – that really meant something to you personally?
Do you notice how hard it is to think of any?
Why we remember bad news better than good news
For the past three years, I've been keeping a weekly record of everything I've done in that week. Call it a "bullet point journal" if you will. I started it when I realized how we keep forgetting the good stuff. Bad stuff simply engraves itself deeper into our memory than good stuff. It's how we're wired. In stone age times it was more important to remember dangers and to warn our tribe about them.
These days however, we're more concerned with self-actualization than with survival. We want to share good things with our tribe now, in order to inspire them and lead them to healthy, happy and fulfilled lives.
In order to stay inspiring we need to be able to "in-spire" ourselves – to "bring spirit in" again. It means to pause and take a moment, a day or a week to be of service to ourselves, rather than only to other people.
It means to re-fill our cup and make it overflow again so we have more to share with others.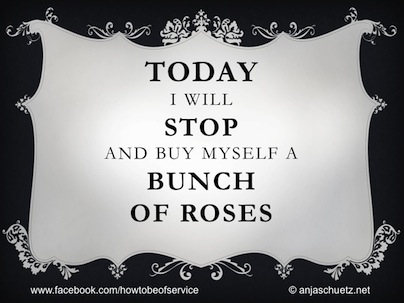 When would be a good time to notice our successes?
NOW.
We are getting so used to being in busy-mode, that we keep rushing past our own successes. But if we don't even notice them, what are we creating them for? We can only be happy in the NOW. If we keep missing the NOW, what do we keep running towards to?
Here are some of my highlights of the first three months of this year:
Biggest professional successes:
I worked full time again for the first time in 4 years and helped a consulting client with a big launch! I successfully set up an operations department, which consists of a small *HAPPY* team – my biggest success and joy!
I entered the Asian market with my coaching cards for managers by receiving orders from Malaysia and India for the first time!
I created an intimate online forum for thirty-something women to share and inspire each other, which is slowly but gradually growing. If you would like to join in the inspiration, I'd love to have you there
Personal highlights:
I finally had a past life regression
I went indoor skydiving (I have no intention of doing the REAL thing)
I started going to the gym and I actually enjoy it!!
Best self-care:
I treated myself to two weeks in Thailand in February (even though I had just been there in October!)
I spontaneously flew to London to a party for my birthday. 
Biggest insights
I realized how powerful prayers are
I learned that the people who hurt me or annoy me in my life are here to teach me something, and they'll keep coming back (in different forms, with different names) until I learned my lesson and how to deal with them.
I accepted that my passion is, has been and forever will be "Service" – as in teaching and inspiring both small business owners as well as staff how to be of service to other people, whether they are our clients, colleagues or bosses. The universe just keeps pointing me towards it..
I hope this inspired you to create your own first-quarter-reflection list, or even a weekly bullet point – journal!
Call for original quotes!
In regards to my last insight above about my passion for Service – I created a new Facebook page which will bring you regular tips and quotes (similar to the image above) on how to be of service to yourself and others – be it your clients, your colleagues or even your boss.
We make a difference in the world by being of service. And one way I want to be of service to you is by publishing YOUR quote on my new Facebook page! Pop over and see if you like it!
And if you want your own original quote going viral on Facebook and Pinterest and everywhere – send me your quote here!
Summary
Since this was a long post, here are 3 calls for action for you:
Share some of your successes of the first quarter below in the comments
Join our group of inspired, successful, thirty-something ladies all around the world HERE and share your blog posts (if they are of interest to the thirty-something crowd) and start some inspiring discussions there
LIKE the new Facebook page and submit YOUR QUOTE and get famous here